The Interpreter


September 9, 2014
Tusk, Putin, Fitas (The Interpreter)
Who is Magda Fitas, a woman next to Donald Tusk from the famous April 10, 2010 photo of Donald Tusk with Vladimir Putin at the Smolensk crash site that appeared on the cover of "W Sieci" magazine shortly thereafter?
She is a translator and interpreter of English and Russian languages, who once worked for Leszek Miller.
Later she interpreted for Lech Kaczyński during his meeting with George Bush, and later for Donald Tusk in his meeting with Vladimir Putin over the smoldering wreckage of the Polish Air Force One in Smolensk.

Upon learning about her background and relationship with Marek Dukaczewski, a conservative Polish politician Jan Rokita sounded alarm:
"Mr. Dukaczewski is a persona who has become a symbol of murky dealings in the WSI (Pol. abbr. Wojskowe Sluzby Informacyjne - Military Intelligence Services - Communist/KGB military intelligence services in Poland) during the last 15 years.
In Polish politics and public life, he is one of the symbols of [Soviet] evil, the worst phenomena of recent years. It is a symbol of dark and obscure underpinnings of Polish public life [...] It is particularly troubling and reprehensible that a friend of General Dukaczewski translates the most sensitive conversations of President Lech Kaczyński."
After the alarms went off, she stopped translating for Kaczyński.

What do we know about General Dukaczewski?
British Intelligence MI-6 about Dukaczewski:
Dukaczewski's name also appears in the archives of the STASI, which were obtained by the British intelligence MI-6. Aside from Gen. Bolesław Izydorczyk and Konstanty Malejczyk, Dukaczewski is listed as one of the heads of WSI who was directly involved in intelligence activities against the United Kingdom and the United States after the fall of communism in Poland.

During 1997-2001, when he was undersecretary of state in the BBN (abbr. Biuro Bezpieczenstwa Narodowego - Bureau of National Security) the media said about him that he was 'one of the most trusted president's [Aleksander Kwaśniewski's] people.' Kwaśniewski has not lost his ability to review information originating from the WSI even under the government of AWS [abbr. Akcja Wyborcza Solidarnosci - Solidarity Electral Action]. Although Dukaczewski himself was no longer there, after all, his buddies were still there. His close relationship with Kwaśniewski served him well when Zbigniew Siemiątkowski wanted to disband the WSI ...

- MI-6
Who is Dukaczewski today? He is an "advisor" to the radical left-wing "Palikot Movement", one of the staples of the Tusk's Platforma Obywatelska (abbr. PO - Civic Platform) coalition.

What does Magda Fitas do these days? She is Marek Dukaczewski's wife and ... Prime Minister Donald Tusk's translator. It is a fragment of her smile next to Donald Tusk face that we can see in the famous April 10, 2010 photograph from Smolensk. The only laughing parties in this photo are Tusk, Putin, and Fijas - the rest have rather somber faces.

So, doesn't anyone thunder with dismay that the person who makes rounds in such murky and suspicious circles is the official translator of the Prime Minister of Poland and the President-Elect of the European Union Donald Tusk? Shouldn't the Prime Minister's translator be beyond reproach, be properly vetted, and possess top secret clearance?
Featured Stories
"Russian Image Management"
The trip to Smolensk was expected to highlight Russia finally admitting culpability in the massacre, after long having blamed it on the Germans, an atrocity they had tried to conceal for over 70 years.

As for the reception committee, it had different ideas. Putin wasn't looking forward to such an occasion. Into this poisonous reception brew was President Kaczynski's well-known public criticism of Moscow and Putin, a habit that has ended the lives of others within Russia – and abroad. A few discouraging Russian requirements – that Kaczynski could not attend in any official capacity – did not halt the Poles. Kaczynski would go anyway on non-official, "personal" business. To Russians, such a distinction would be meaningless, not lessening the possible international excoriation of such an event. A problem ripe for a modern, Russian solution: a tragic, 'natural' accident.
"Meteoric Rise of Donald Tusk"
The year is 1986.  The first in a series of many "spontaneous" meetings between the USSR and the German Democratic Republic intelligence officers, are being held in Dresden, East Germany.
After several months of these "informal" meetings, an unremarkable - in both height and rank - KGB officer, speaking excellent German, albeit with a bit of a funny accent, becomes their host. No one there had paid much attention to a man named Vladimir Putin.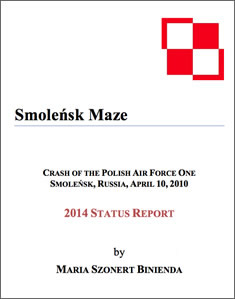 "Tape-Gate" and Smolensk Crash
While the explosives' detection issue was temporarily relegated to the second pages, just like the "Tape Scandal," this problem is not going away either. The detonating cord attached to the "Smolensk explosives" is no longer smoldering - it is already lit, and is slowly moving to blow up in the faces of "truth shamans" hard at work socio-engineering their masters out of this uncontainable mess. Considerable erosion of public trust in the sitting government, as confirmed by recent polls, gives credence to another tectonic shift, whose aftershock is about to be felt in Poland.
Will Mr. Tusk be able to roll-out, in time, the friendly-media firetrucks to extinguish the burning detonating cord inextricably attached to the Smolensk crash "un-explosives"? Recently, two eminent Polish chemists, Dr. Krystyna Kamieńska-Trela, Ph.D., and Dr. Sławomir Szymański, Ph.D., released their ground-breaking findlings. With utmost scientific certainty, the scientists confirmed the presence of explosives on the wreckage of the Polish government plane that crashed in Smolensk in 2010. More here ...