Smolensk Crash Investigation Expert

Profiles


Maria Szonert Binienda, JD
SCIEPEP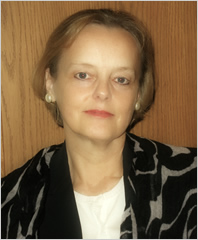 Maria Szonert Binienda, JD
Maria Szonert Binienda, ML, JD, MBA
Attorney Szonert-Binienda received her Master in Law Degree in Public International Law from the University of Warsaw, Juris Doctor Degree from Rutgers University, and MBA from the University of Akron. She was one semester short of completing her post-graduate journalism program at the University of Warsaw when she was forced to leave Poland as a result of 1981 Martial Law.
Attorney Szonert-Binienda began her legal career in Philadelphia and subsequently joined the law firm of Jones Day Reavis and Pogue. With the demise of communism, she joined Skadden Arp Slate Meagher and Flom and became involved in the restructuring of post-communist countries. Subsequently, she worked at the U.S. Department of State, Agency for International Development, serving as Capital Market Specialist for Europe and Newly Independent States. She later served as Vice President and Legal Counsel for KeyBank.
For the past decade, she has served on numerous boards of non-profit organizations, published extensively, and became Founder and President of Libra Institute, Inc.
In that capacity she led the efforts of Polonia in the USA for declassification of Katyn related documentation. Attorney Szonert Binienda also served as a project coordinator with the Public International Law and Policy Group for Janowiec and Others vs. Russia case before the European Court of Human Rights. Since 2010, she has been actively involved in the struggle for fair and transparent investigation of the Polish Air Force One crash in Smolensk, Russia, on April 10, 2010.
Maria Szonert Binienda testimony before the European Parliament, March 28, 2012
Featured Stories
"Russian Image Management"
The trip to Smolensk was expected to highlight Russia finally admitting culpability in the massacre, after long having blamed it on the Germans, an atrocity they had tried to conceal for over 70 years.

As for the reception committee, it had different ideas. Putin wasn't looking forward to such an occasion. Into this poisonous reception brew was President Kaczynski's well-known public criticism of Moscow and Putin, a habit that has ended the lives of others within Russia – and abroad. A few discouraging Russian requirements – that Kaczynski could not attend in any official capacity – did not halt the Poles. Kaczynski would go anyway on non-official, "personal" business. To Russians, such a distinction would be meaningless, not lessening the possible international excoriation of such an event. A problem ripe for a modern, Russian solution: a tragic, 'natural' accident.