Interview With Magdalena Merta




Magdalena Merta, widow of Tomasz Merta, Polish historian and Undersecretary of State from 2005-2010.


DSSVIMM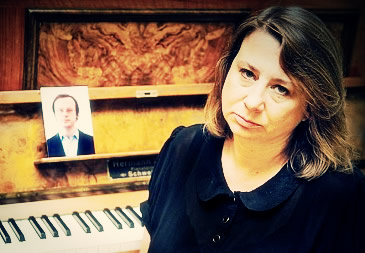 Magdalena Merta, Smolensk Widow. PHOTO by naszdziennik.pl.
Q: Did information about the Prime Minister [Donald Tusk's] trip to Katyn make it in any way difficult to prepare the visit of the [Lech Kaczynski's] presidential delegation [On April 10, 2010]
Merta: [My husband] Tomek [short for Tomasz] was somewhat disappointed that the visits of these delegations will be separated. He certainly wanted all Poles to be united around the Katyn issue. He was, nonetheless, very happy that the presidential visit will come to fruition, because it was all a big question mark. He was happy that Polish government, together, or separately, would have an opportunity to pay homage to the Katyn victims. He recognized the significance of this.
Q: On April 7 [2010] an important event took place. The Prime Ministers Donald Tusk and Vladimir Putin bowed their heads above the graves of Polish soldiers [murdered by the Soviet NKVD in Katyn]. Did your husband believe that Katyn can unite Poles and Russians?
Merta: Tomek didn't trust the Russians. Once asked if our relations [with the Russians] will ever be cordial, he responded: "It happened before, during Yeltsyn". He was of opinion that fundamentally, the mentality of the Eastern nations [Russia] didn't change much. Were the Russians ordered once again to repeat the Katyn massacre, they would have carried it out. They [the Russian government] don't view [the Katyn Massacre] as a horrific murder that should never happen again. My husband pointed out that the Germans, who after II World War were subjected to the de-Nazification - as he had called it - had their brains reprogrammed. An insurmountable evil that the fascism was as a totalitarian system was, had been exposed. It never took place in the East, and there is ample evidence of this at every step in Russia. In Smolensk for example, it still is the Lenin's monument that reins over the main artery in the city. It is apparent that it hasn't been fully realized as of yet, what kind of horrific system the communism was.
Q: How many individuals who died in the crash did you know personally?
Merta: I think that aside form the pilots, the flight crew, the BOR [security detail] members, and the Commandant of the Warsaw Garrison, General Kazimierz Gilarski with whom I organized patriotic events, I knew them all. He was a person who was incredibly welcoming to the idea of memorializing the military heroes. I didn't know some of the clergy. I met the great majority of others on more then one occasion. I was really fond of Tadeusz Lutoborski, who was former head of the Katyn Families Association. I think about him often these days. He often spoke about the hopelessness of the fight for truth [about Katyn] and how it clashed with lies, or about the lack of resolve to [once and for all] explain the Katyn crime. Today, I am under impression that these feelings became my own. The Anna Walentynowicz, always greeted me with great cordiality. As it happened, we met during many public functions. I adored the Maria Kaczyńska [Poland's First Lady]. She was full of warmth and personal charm.
Q: You knew the [Poland's] First Lady personally?
Merta: Yes, I had the honor to have known her personally. The last time we met was during the inauguration of The Chopin's Year. We met during variety of functions, and were able to speak with each other. I was always under the spell of her incredible tactfulness and endearing way of being. She [Maria Kaczynska] wasn't only the First Lady, she was an incredible lady.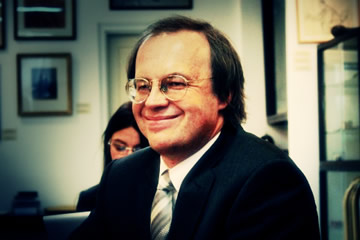 Tomasz Merta, Magdalena's husband. PHOTO by pilsudski.org.
Q: How do you remember President Lech Kaczynski?
Merta: When Lech Kaczynski was a mayor of Warsaw, I worked at one of the non-profit institutions, and had an opportunity to meet him. Sławomir Skrzypek, Władysław Stasiak, Paweł Wypych, and Barbara Mamińska also worked at the City Hall at that time. We worked closely together, and naturally, knew each other. I had a reason to appreciate these people. They were incredibly idealistic.
Q: In 1940, in Katyn, the Russians murdered Polish officers who above all valued God, Honor, and Country. These days – when we [finally] get to know better the people who died [in the crash] in Smolensk - it appears, that the great majority of them shared exactly the same ideals.
Merta: The ethos of those who died seventy-one years ago in Katyn, and those who lost their lives in Smolensk [crash], will serve to harden the Polish spirit and Polish hearts. I hope we never run out of righteous, and noble individuals who will give their-all in the service to the Republic of Poland. I'd rather think this way, and hope that it hasn't all changed on April 10 [2010].

Q: The Katyn murder concerns over twenty thousands soldiers and reserve officers, who toiled everyday as lawyers, scientists, teachers. This truly was an elite of the II Polish Republic per se. Less than hundred individuals who held important positions in the government, and who wholeheartedly served their sovereign nation, had died in the Smolensk crash. Are you under the impression that after loosing them, just as loosing the others earlier to the Katyn Genocide, our nation is succumbing to chaos?
Merta: I am certainly under the impression that, proverbially speaking, the Republic of Poland went to the dogs after April 10 [,2010]. It all looks and appears to be moving in a wrong direction, as if those who died were indeed the guardians of our nation's sovereignty. I have seen that politicaly "emaciated" Poland during the communist PRL period. There were difficult moments in our history, but we had risen to be a sovereign nation. Let us be hopeful, and believe that it will be the same this time as well.
Q: But, Poland is a sovereign nation. Isn't it?
Merta: We are not sovereign in our decision-making, and as a society we are particularly betrayed. I believe that Polish national interests are endangered. Not to say, that some of it wasn't taken place before the April 10 crash. However, there were people who watched out that Poland wasn't wronged. The people, who for example, fought to diversify the sources of natural gas supplies, and by doing so forged our independent energy policy, had died in Smolensk. I am of opinion, that we are again getting ourselves in some wishful-neighborly deals that will affect us negatively. By scaring us with bad relations with Russia, they are attempting to achieve such situation, where under this perceived threat, we elect to the office those who profess to be guarantors of good relations with [Vladimir Putin's Russia].
Related Stories
"Smolensk Widows"
A new book entitled "Smolensk Widows" by Dariusz Walusiak, was published under the auspices of the "Niepoprawni.pl" and the Publishing House "Rafael" in Poland. Excerpt:
"The world had crumbled for many Poles on April 10, 2010, and in particular, for the families of the victims who were left to the official, and often contradictory reports about this tragedy. Few of those who lost their loved ones began their quest for truth [...] While demanding the truth, the "Smolensk Widows", Ewa Błasik, Beata Gosiewska, Ewa Kochanowska, Zuzanna Kurtyka and Magdalena Merta, became the conscience of a mourning nation. "The Smolensk Widows" is a story about these few brave and uncompromising women whose conscience, the sense of decency, and honor, didn't allow to remain silent. Despite their profound loss, they bravely stood-up to defend the memory and truth about their husbands and friends, who perished on April 10, 2010 …