Interview With

Ewa Błasik




Ewa Blasik

, widow of

General Andrzej Blasik

, Commander of the Polish Air Force.
DSSVIEB
Neither Captain Arkadiusz Protasiuk, nor my husband are responsible for this tragedy!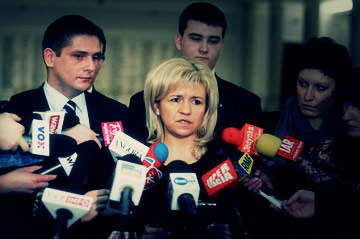 Ewa Błasik
, Smolensk Widow. PHOTO by pluszaczek.com.
Q: Did General Błasik have good relationship with the upper-ranking officers who were flying with him to Katyn [on April 10, 2010]?
Błasik: They all knew each other very well, and respected each other. They understood each other without words. When they had to fly somewhere, they called each other and made arrangements. The Chief of Staff, General Franciszek Gągor was an incredible man, a true Polish officer.
Q: Earlier, there was another tragedy – the Casa crash. All upper-ranking Air Force officers had perished. Some of them were certainly acquainted with your husband …
Błasik: Until the end, Andrzej [Blasik] couldn't believe that it was the pilots' fault. While speaking about it, the Minister of National Defense, mentioned their [pilots'] nonchalant attitude. How can one say that? Do we know what really caused that particular crash? Our friends had died. It impacted us deeply. My husband had not only to remain calm, but at the same time, make an appearance of remaining outwardly tough. [Have no illusions], it impacted him profoundly.
Q: How did he assess that [Casa] crash?
Błasik: These pilots were trained in Spain, where the plane was built. Unfortunately, aviation crashes happen. The crash report surprised him, however. He thought, that there could have been other reasons that were never fully investigated. [In a nutshell] he couldn't believe it.
Q: Did your husband personally knew the pilots who sat behind the controls of the TU-154 on April 10, 2010?
Błasik: My husband had thousands of people under his command. He very much cherished both the truth and the honesty. He had to trust his pilots. He always emphasized that. The safety was of paramount importance to him.
He knew the TU-154 [flight] Captain Arkadiusz Protasiuk very well. He very much respected his professionalism. At the end of the year, he gave him citation for an incredible piloting feat, that is, the safe flight from Haiti, where the Tupolev flew as a part of a humanitarian mission. An Auto-Pilot [system] failed, and Captain Protasiuk had to manually fly the Tupolev back to Warsaw for many hours. In the aviation circles, it was viewed as championship-like flight.
General Andrzej
Błasik
. PHOTO by blogmedia24.pl.
I spoke with the pilots form the 36-th Special Aviation Regiment who flew with my husband. They are troubled, that while attempting to defend Capt. Protasiuk, a small group [of officers] blabbed bunch of nonsense to the journalists. Someone is encouraging them to take a position, that in order to defend the crew, they have to blame my husband. It has nothing to do with truth. Neither Captain Arkadiusz Protasiuk, nor my husband are responsible for this tragedy.
Q: After all, the President Lech Kaczynski entrusted the command of the Air Force to General Blasik. How did your husband view this responsibility?
When on August 15, 2005, we returned from the United States, Minister Jerzy Szmajdziński, and [then] president Aleksander Kwaśniewski promoted my husband to the rank of general. It is then that he received his first general's star.
In 2006, the new minister [of Defense] Radosław Sikorski, proposed to my husband that he become a commandant and a provost of the Polish Air Force Academy in Dęblin. As it happens, I witnessed this call from minister Sikorski.
My husband neither wanted to part with Poznan [where he was stationed], nor with his bellowed airfield in Krzesiny.
He felt great in Deblin as well. He had an airfield, and the planes nearby [to fly]. He flew [planes], and managed the school.
On my birthday, which was on March 29, 2007, my husband was summoned to the Ministry of National Defense by the late minister Aleksander Szczygło. Mr. Minister said that he wants him to take over command the [Polish] Air Force. My husband served with distinction at all his posts. We knew that sooner, or later, they will ask him to take over this important responsibility.
When he returned home after his conversation with the minister, he told me all about it. In the end he said, as he would always say in such situations: "I didn't say no". He knew what kind of responsibility it was.
During the funeral, General [Roger A.] Brady said that it didn't surprise anyone that command of the Polish Air Force was bestowed on General Andrzej Błasik. My husband received information from the Pentagon that NATO wanted to give him an upper-ranking command position within its structures.
The General Gągor was to take over an important post in Brussels. We spent the New Year eve together, and welcomed the new 2010. The General Gągor told my husband: "Andrzej, I can't imagine that you would not succeed me in my position". There were such plans.
Q: Your husband was viewed as PiS's [The Law And Justice Party] general. Did it bother him?
Błasik: He never identified himself with any [political] party.
Such things were said not only about him, but also about the late [Polish Navy] Admiral Andrzej Korweta, who was promoted to lead the Polish Navy by the President Lech Kaczynski. It's an idiocy. How can you say such things about the generals of armed forces who have to stand above such [political] divisions? Treating them as some sort of "tin soldiers" is both offensive and ridiculous.