Alexei Devotchenko, Putin's vocal critic and proponent of an independent Smolensk crash investigation, found dead
SCND November 13, 2014
Above: Alexei Devotchenko PHOTO by Wiki
The "Serial Suicider" now has a Russian passport. Did Alexei Devotchenko die because he demanded an international investigation of the Smolensk crash?
On November 5, 2014, Russian LifeNews.ru reported the death of a well-known Russian film actor and theater director, Alexei Devotchenko. His body was found in his apartment in Moscow. The circumstances of his death remain unknown. It was reported that he was found in a "pool of blood at his apartment", and one day earlier, he had returned home drunk ...
Born in 1965, Devotchenko was a popular Russian actor and an outspoken critic of Russian President Vladimir Putin. In his October 5, 2011 blog entry entitled "Appeal to the Russian Intelligentsia," he went public with his criticism of Putin, and wrote:
"My Dear Compatriots, Dear representatives of the Russian intelligentsia who thus far miraculously survived! In recent years, many actors and artists chose to strongly support Putin, his "United Russia" party, and his restrictive policies. Of course, this "support" takes place right before the elections. What has become of our country after a year of Putinism? The "Kursk" submarine has "drowned"; in Beslan, the people who found themselves at the mercy of an incompetent government, were killed. They killed children! "Nord-Ost"? The roof over the water-park "Transvaal" has collapsed? And again, again, and again there are the children – there is negligence everywhere; there is incompetence and indifference, and most importantly, the total corruption that has flourished in the shadow of Putin's "directives". What about the mystifications concerning the "Yukos" after Putin's ascension to power? And there are the deaths of Magnitsky and Aleksanyan, and the murders of Anna Politkovskaya, Alexander Litvinenko, Natalia Estemirova? ... and continuing and brutal pacifications of peaceful demonstrations? … and censorship in the media, and the creation of the so-called television "Black List" (stop-list)? And there is the shameful war with Georgia in August 2008, which began with his knowledge, if not by his direct order, when [the country was] formally under the "presidency" of Medvedev? [This is] the list of "glorious" affairs of a popular "leader", a commander of some sort of Russian "Popular Front", that forges forward along the Prime Minister of the Russian government...

We, the undersigned, have not authorized, nor have we given our mandate to the "Putinists of culture" to sing accolades in honor of the existing system. But, I do not blame them. In the end, these are their own moral choices and their own [perception of their] citizenship. In [preparing] my appeal, which I consider to be my duty, I want to say that among those who consider themselves part of the creative intelligentsia, are others, who have different opinions. Those, for whom the current system is profoundly misguided, immoral and unacceptable.

Regards,

Alex Devotchenko, artist
Nina Katerli, writer and journalist,
Oksana Mysina, actress
Signatures will be collected and added to the petition. It is still not clear how, and by what technical means. We will keep pondering about this. Thanks."
The mysterious death of this actor is only one in a series of multiple, unexplained deaths, in Russia and in Poland. Was it suicide or was it a result of a sinister predatory assault? It is likely that we will never know the truth about what really happened to him. Information about this unfortunate "accident" went largely unnoticed by the mainstream media.
The attitude of the actor was certainly inconvenient to Russian authorities. Devotchenko had well defined political views. While studying entries on his blog, one can notice that he did not trust the current Russian government. Usually, he would make personal entries every two to three days, sometimes only once a month. April 10, 2010 was an exception. On that day, Devotchenko made four brief and emotional entries in his blog. His first reaction was to remark: "What had happened to all those poor Poles? ... For what? ... " He attempts to express his thoughts in Polish, writing: " ETERNAL MEMORY. RUSSIAN PEOPLE SAD. VERY GREAT sadness ...." There was a picture that does not appear on his blog anymore that accompanied it. Several hours later, he wrote: "15:43 - our shameful and disgusting television channels ... Anything goes, as always, as if nothing had happened - fun contests, advertising, movies. As if nothing happened ... Wraiths, Vultures. Well, the Day of National Unity (how fitting, the Day of expulsion of Poles from the Ruuuussssiiiiiiiiaaaaaaannnnnnnn territory!!!) We will continue to celebrate it in November? !! (((((((((((((("
In the comments on his blog, the visitors sympathized with the author and bereaved Polish nation. Unlike the Polish government however, none of his friends have expressed confidence in the official version of the events. The majority of opinions were that the disaster was not an accident. They also reminded us about the "Georgian Incident" and the friendship between the Polish Prime Minister, Tusk, and Putin. One of the commenters noted, "Anyone who watched the 'Die Hard 2' movie, knows how easy it is to stage a plane crash by sabotaging the navigation system," while another writes: "The descendants of the victims were flying to the descendants of butchers." On that afternoon Alexei Devotchenko made yet another important entry: "An international investigation is needed (...) Russia owes it to the world community - to demand an independent international investigation into the Smolensk disaster. I never initiated such proposals, and I have no experience in preparation of such appeals. I cannot really imagine to whom an appeal such as this should be directed. However, the necessity for this should be clearly formulated and submitted to the international community. Yes, it is an expression of lack of confidence in the current Russian government - but will it [even] make it a news story? And this statement - this is the only thing that the Russians can do in solidarity with the Poles, in memory of those who died in Smolensk, not just for themselves."
On April 12, the actor made an entry in the book of condolences at the Polish consulate in St. Petersburg, and at 2:49 A.M., in his blog, he also interceded the Polish national emblem, the white eagle on a red background, and eloquently wrote in Polish: "Forgive us ...(Pol. "PRZEBACZ NAM...)" next to the Polish national flag.
The Polish government no longer even pretends to seek the return of the wreckage, the black boxes, or is interested in finding the true causes of the "crash". Each day moves us away from the truth; every passing minute destroys the evidence, and erases memories of those who could bring something to the investigation. But there is no shortage of decent, honest people on each side, both Polish and Russian. They demand and will continue to demand the truth, to demand an international investigation, an independent commission. Sooner or later, we will find out what really happened in Smolensk on April 10, 2010.
Rest in peace Alex!
The original Polish language version of this article can be found at Pomnik Smolensk
Related Stories
"Cover-up by Suicide"

Remarkably convenient suicides ...
Remigiusz Mus, the flight engineer on Yak-40 whose landing immediately preceded PLF 101 and whose testimony implicated the Russian flight controllers, died of suicide.
This rounds out the death of the entirety of key witnesses whose testimonies could prove that the flight controllers bore at least partial responsibility for the mysterious crash that killed the Polish President Lech Kaczynski and 95 others near Smolensk, Russia, on April 10, 2010.
Suicide. So says the Polish Prosecutors office under the administration of Donald Tusk, Bronislaw Komorowski, and the Civic Platform party (Platforma Obywatelska, PO) - the people who came out on top following the disaster of Flight PLF 101. The position of the Prosecutors office is that the autopsy indicated death by hanging with no defensive wounds and and alcohol level of one permille (.01%).
General Konstantin Anatolyevich Morev, chief of the Federal Security Services (FSB), successor to KGB, office in Tver, who interviewed the Russian flight controllers, died at the end of August 2011. His body was found in his office. The official cause of death was a self-inflicted gunshot wound from his service revolver. Read more here
"Russian Image Management"
The trip to Smolensk was expected to highlight Russia finally admitting culpability in the massacre, after long having blamed it on the Germans, an atrocity they had tried to conceal for over 70 years.

As for the reception committee, it had different ideas. Putin wasn't looking forward to such an occasion. Into this poisonous reception brew was President Kaczynski's well-known public criticism of Moscow and Putin, a habit that has ended the lives of others within Russia – and abroad. A few discouraging Russian requirements – that Kaczynski could not attend in any official capacity – did not halt the Poles. Kaczynski would go anyway on non-official, "personal" business. To Russians, such a distinction would be meaningless, not lessening the possible international excoriation of such an event. A problem ripe for a modern, Russian solution: a tragic, 'natural' accident.
KGB Poisons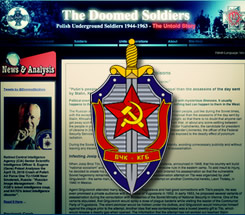 Political enemies of Colonel Vladimir Vladimirovitsch Putin are falling ill with mysterious illnesses. It usually happens to them after they escape from their homeland, hoping that nothing bad can happen to them in the West.
The Russian secret service is using various poisons to get rid of inconvenient people, just like during the Soviet times, with the exception that Putin's people have more refined means at their disposal than the assassins of the day sent by Stalin, Khrushchev or Brezhnev. This happens to journalists in broad daylight, so that there is no doubt that anyone can get away scot-free with writing the truth about the atrocities of the Chechen War, or about any score-settling between the people in power.
Read more here
The Poisoning of Litvinenko
It started as a possible case of food poisoning but within weeks turned into a grim spectacle of enormous political proportions: Aleksander Litvinenko, former member of the Russian secret service, died in his place of residence London last November, after having been poisoned with a radioactive substance [...] It is a wild tale full of conspiracies, assassination attempts and imputations. Litvinenko talks about his time with the secret service, about his experience in Chechnya, and in particular about the series of bomb attacks on Russian territory that led to the seizure of power by Vladimir Putin.